Charter Celebrates 80 Years
There is nothing typical about Charter Manufacturing. The company was founded in the middle of the depression, named for a forgotten Illinois inventor, and headed by a junior engineer fresh out of college.
The firm might have been Frigidaire, if the founder's luck had lasted, but it was built instead around an ever-so humble piece of hardware, the common lock washer.
After years in that lightly traveled backwater, Charter plunged into other products lines, from dipsticks to sled runners, and then worked its way into the main stream of the American steel industry.
At a time when older, supposedly wiser companies were getting out, Charter got in; buying and building steel mills that revived the American manufacturing dream in all its gritty glory. The result has been red-hot growth in the field that some observers had given up for lost.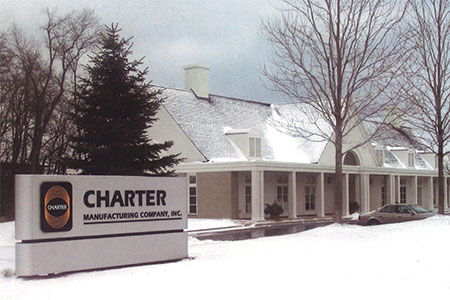 Charter Manufacturing has prospered as a contrarian, never accepting the conventional wisdom, never content to follow the crowed. The company has blazed a trail entirely its own, and has developed, along the way, an utterly consistent vision. What gives Charter it unique identity is the Mellows family, a clan of engineers and entrepreneurs now in its fourth generation of ownership.
Each generation has driven the company from its modest start in the 1930's to the broad new horizons of the twenty-first century. Charter Manufacturing Company is comprised of four divisions: Charter Steel, Charter Dura-Bar, Charter Wire and Charter Auto.