G2 Gray Iron
Dura-Bar G2 is a pearlitic gray iron containing Type A graphite. Our continuous cast bars made to this robust specification are a good fit for a variety of applications, due to its good machinability, wear resistance and vibration damping properties. G2 is built around ASTM A48 Class 40 gray iron, which is validated from a separately cast bar. To learn more, download the G2 Gray Iron Grade Product Brief.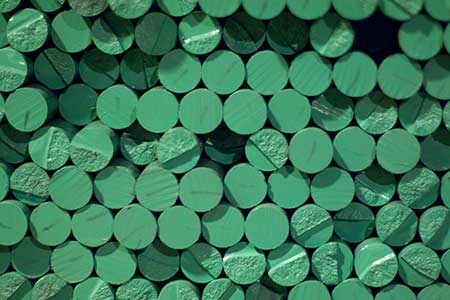 Microstructure
The microstructure will contain Type VII, A, size 4–6 graphite as defined in ASTM A247. The matrix is fully pearlitic. The edge or rim will consist of Type D, size 6–8 graphite in a matrix that is a combination of pearlite and ferrite. Chill carbides will be less than 5% in any field at 100x and are well dispersed.

Center Area
100x, etched in 5% Nital
Edge Area
100x, etched in 5% Nital

Heat Treat Response
Dura-Bar G2 can be oil quench hardened from 1600° F (885° C) to a minimum hardness of Rockwell C 50 on the outside of the bar. The inside diameter hardness will be less than Rockwell C 50. Lower quench hardness on the inside diameters are a result of larger graphite flakes and not as loss of matrix hardness. Get more details including typical Jominy end quench curve, methods and cycle times, and temperature effects by downloading the Dura-Bar Heat Treating Guide.
Rounds

Size Range: 1.250" to 26.560"
As-cast round bars are made to clean up at the nominal size. Additional stock is added to allow for out-of-round and normal imperfections in the as-cast surface. Stock allowance is a function of the bar diameter - see Stock Allowances for details. Other finishes available are Centerless Grinding and Centerless Turning, for demanding tolerance applications.
Rectangles/Squares

Size Range Rectangles: 0.750" x 1.500" to 17.000" x 30.000"
Size Range Squares: 1.500" x 1.500" to 21.000" x 21.000"
As-cast rectangles and squares are made to the actual size with no allowance for machine stock added. Rectangles and squares are cast to actual dimension, with clean up stock dependent on the height and width ratio. See Stock Allowances for details. Rectangles and squares can be milled to achieve close tolerance benefits - see Services/Milling for details.
Tubes

Size Range: 3.500" x 1.500" to 9.000" x 7.000"
Trepanned tubes are stocked in 72" lengths, but can be produced in longer lengths upon request. Tubes are stocked in grade G2 gray iron, but most stocked sizes and any grade of O.D. can be trepanned to the inside diameter listed. Tubes are sold with clean-up stock on the inside and outside diameters. See rounds Stock Allowances for O.D. The concentricity tolerance between the I.D. and O.D. is 0.250". See Services/Trepanning for details.
Custom Shapes

Sizes can be designed to meet your requirements.
All custom shapes are special order and are quoted individually at minimum run quantities. Contact us to find out if a Dura-Bar custom shape will work for your part.
Chemical Composition
Carbon and silicon targets are specified for each bar size in order to control the size and shape of the graphite flake.
| Element | Percentage |
| --- | --- |
| Carbon | 2.60–3.75% |
| Silicon | 1.80–3.00% |
| Manganese | 0.60–0.95% |
| Sulfur | 0.07% Max |
| Phosphorus | 0.12% Max |
Mechanical Properties
Brinell hardness values for nominal as-cast diameters are shown in the table. Hardness properties listed are minimum and maximum across the bar. Hardness values for rectangles and squares are a function of the height and width ratios and will be supplied on request.
Size Range
BHN
Inches
mm
Min
Max
0.625–0.750
16–19
229
301
0.751–1.500
19–38
207
285
1.501–2.000
38–51
207
277
2.001–3.000
51–76
207
269
3.001–6.000
76–152
197
269
6.001–20.000
152–508
183
269
Tensile strength is determined from a separately cast, ASTM "B" test bar. Separately cast test bars will meet the minimum strength in pounds per square inch in the table below. Additionally, a test bar is removed from the continuous cast bar for reference, as tensile strength varies with section thickness and bar diameter.
Mechanical Properties
Tensile strength psi (min)
40,000
Yield strength psi (min)
n/a*
Elongation (min)
n/a*
* Gray iron will not yield/elongate before fracture. The behavior of gray iron is non-ductile.
Automotive:
Gears
Fluid Power:
Cylinder blocks, Glands, Manifolds, Pistons, Rotors, Spools, Valves
Machinery:
Bushings, Gears, Gibs, Housings, Pulleys, Rams, Sheaves, Side Frames, Slides, Spindles, Ways
Miscellaneous:
Aluminum Molds Plates, Cams, Chain Sheaves, Core Boxes, Dies, Pattern Plates, Wheels
Oil and Gas:
Bridge Plugs, Cement Plugs, Cones, Mandrels, Retainers, Slips
Power Transmission:
Gears, Pulleys
Pump and Compressor:
Gears, Housings, Liners, Pistons, Rollers, Rotors, Seals
Steel Mill:
Continuous Caster Rolls, Foot Rolls, Table Rolls, Torch Rolls
Transportation:
Brake Rotors, Cylinder Liners, Gears, Lash Adjusters, Pulleys, Shock Absorber Pistons, Valve Guides, Valve Seat Inserts